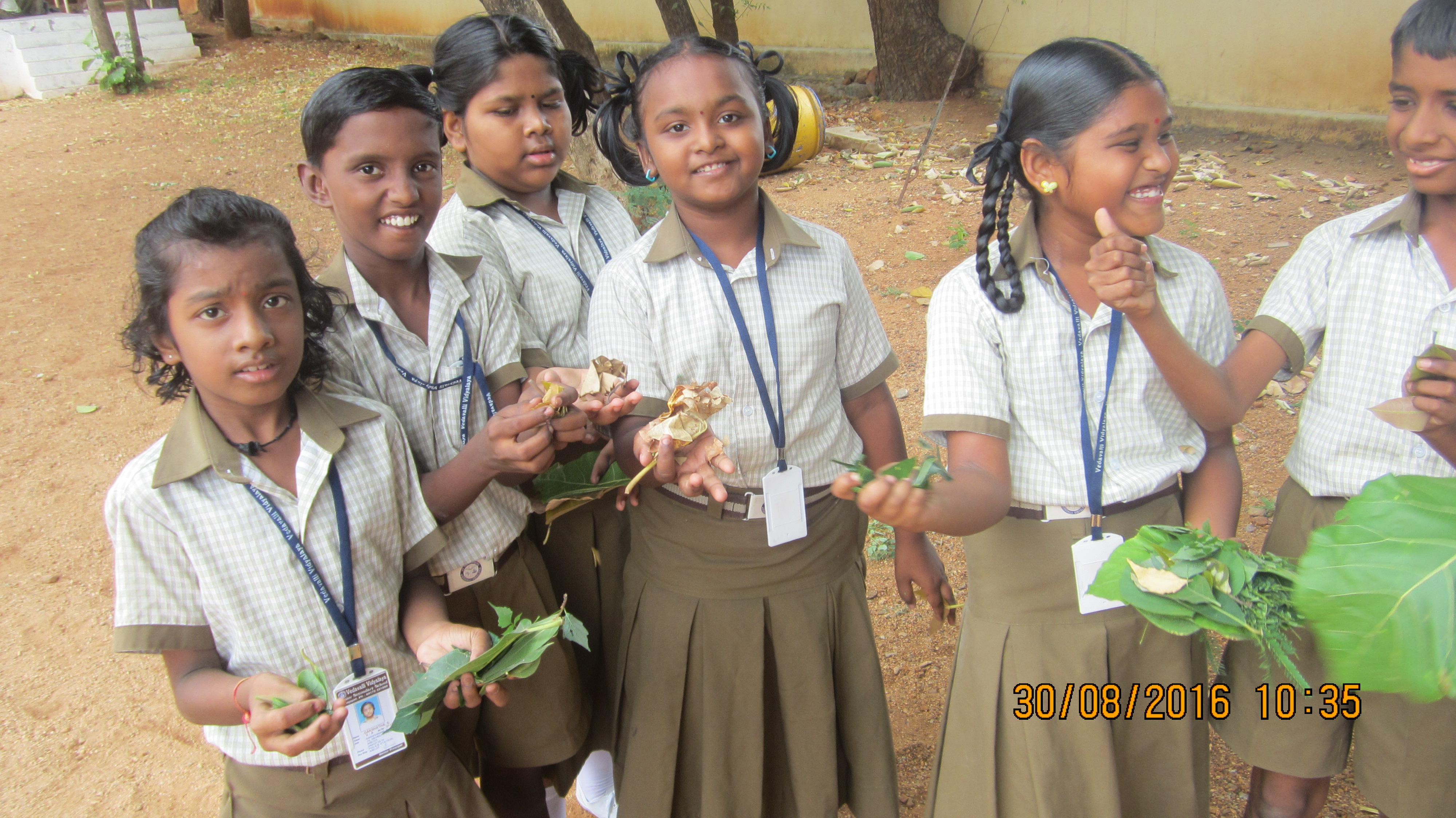 Vedavalli Vidyalaya, Walajapet, Tamil Nadu
Class: V A, August 2016
Small Science – Class 5
Chapter 2 – Soil
Soil-1
I am very glad to share a few experiences which I had with my students while doing the Small Science activities. Small Science helps learners of all ages to understand important concepts through their own observations.
Chapter 2 in the Small Science Class 5 books brings out the role of soil in the cycle of living things. Students have to observe soil and to learn about a compost pit. I began by recalling the Class 4 activity of Small Science in which students had to observe stages of decay of banana peels buried in pots.
Now we decided to make our own small compost pit. Students of Class V A were segregated into four groups and I instructed them to collect different types of leaves that were fallen on the ground.
Students were excited to collect the leaves. They observed the shapes and sizes of the leaves and smelled them. They crushed, rubbed and played with the leaves. They noticed that some leaves were dry and some were decomposed more than others.
Then we selected a spot in the playground and some students started to dig there with a stick. Students were eager to spot the soil creatures that came out while digging the pit. They raised many questions such as, What would be there deep under the soil? Why does it looks wet under the ground? and How do the dry leaves become "weight-less"?.
Finally, we buried the leaves. In the next class I took my students to show the compost pit in our school campus. We poked the compost with a long stick. Students spotted some insects which were eating the decaying leaves. Their descriptions of the smell, colour, appearance and shape of the leaves and humus were very impressive.
Whenever I take my children outside the class, they feel happy and excited and it gives them the best opportunity to explore something completely new. Our journey continues…
Ms. Sathya Priya, M. T.
Class Teacher, V A