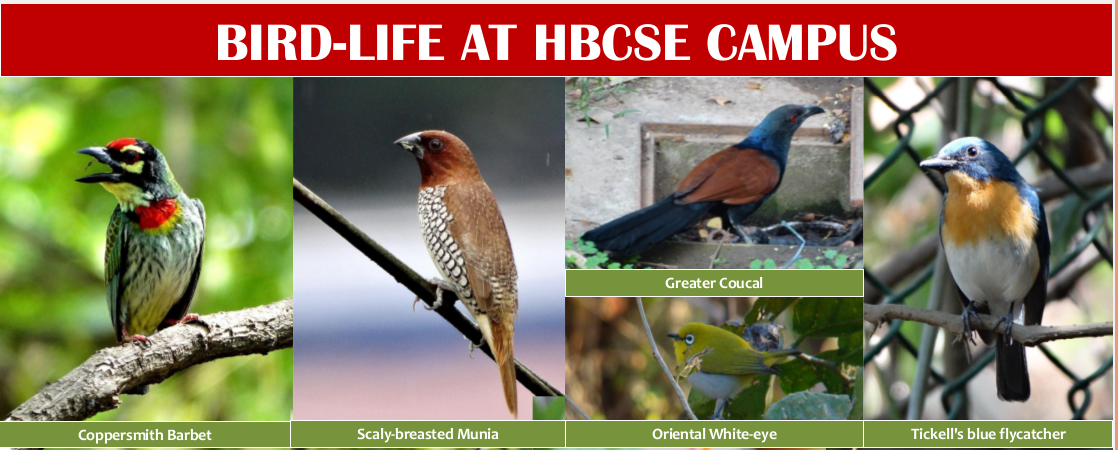 HBCSE campus supports a rich and diverse group of birds. Some species are seen nesting at regular intervals. The trees here provide nesting spots for various birds like crows, pigeons, coppersmith barbets and sunbirds, while the shrubbery and dangling creepers provide nesting spots for tailor birds, bulbuls and babblers. Predation of purple-rumped sunbird nests have been observed on several occasions.
Usually, mornings and evenings are good times to do bird-watching. But since the campus is green, shady and quiet, one can even sight birds during the afternoons. They are seen bustling around shady shrubs and trees. Some birds like warblers and red-breasted flycatchers which are migrants are not seen throughout the year, while others like coppersmith barbets, purple rumped sunbirds are seen all year round.
Birds sighted at/from HBCSE campus
1. Coppersmith Barbet
2. White throated Kingfisher
3. Green Bee-eater
4. Greater Coucal
5. Asian Koel
6. Rose ringed Parakeet
7. Barn Owl
8. Rock Pigeon
9. White breasted Waterhen
10. Red wattled lapwing
11. Black Kite
12. Cattle Egret
13. Indian Pond Heron
14. House Crow
15. Large Billed Crow
16. Eurasian Golden Oriole
17. White browed Fantail
18. Ashy Drongo
19. Asian Paradise Flycatcher
20. Tickell's Blue Flycatcher
21. Oriental Magpie Robin
22. Chestnut tailed Starling (only once in 2009)
23. Asian Pied Starling
24. Brahminy Starling
25. Common Myna
26. Red whiskered Bulbul
27. Red vented Bulbul
28. Ashy Prinia
29. Oriental White Eye
30. Blyth's reed Warbler
31. Booted Warbler
32. Common Tailorbird
33. Common chiffchaff
34. Tawny bellied Babbler
35. Pale-billed Flowerpecker
36. Purple rumped sunbird
37. Purple sunbird
38. House Sparrow
39. Scaly breasted Munia
40. Asian Palm Swift
41. House Swift
42. Red breasted Flycatcher
43. Vigors's sunbird
44. Shikra
45. Greenish Warbler
46. Eagle (unidentified, February 2016)
47. Painted Storks
48. Indian Grey Hornbill
49. White Wagtail
50. Black-headed Ibis
51. Glossy Ibis
[list updated as of September 2019]
Have you wondered:
Why do we see less bird activity during the afternoons?
Why do male and female birds of the same species look different?
Wouldn't the bright coloured birds attract predators faster?
Does a bird-call of the same species remain the same throughout the year?
Bird watching in general requires a lot of patience. Some birds get easily disturbed, particularly in a human-dominated landscape like this campus. So one can keep in mind the following tips while bird watching at the campus:
1. Do not make sudden movements or gestures when you sight a bird.
2. Take small steps and walk without making a lot of noise.
3. Pay attention to bird calls, often you can identify which birds are in the vicinity by just listening to their call.
4. Observe bird morphology and behaviour carefully. It may help in identification of the species later.
5. Keep a note of the season/month in which you sight the bird.
6. Extremely bright coloured clothes may alert birds of your presence.
7. A pair of binoculars may help you get a better view of the bird.
Happy Birding!
Text and Images by: Adithi Muralidhar