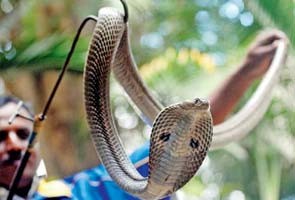 Ritesh sensitises us to snakes, narrating his experiences in handling snake-sightings at HBCSE.
About Ritesh: Ritesh Khunyakari has done his PhD in Science Education from H.B.C.S.E. He jointly co-ordinated a course on Science Education for the M.A. Education (Elementary) course at Tata Institute of Social Sciences (TISS), Mumbai. He has served as a lecturer in Botany at Abasaheb Garware Senior College, Pune for the Undergraduate and the Junior College courses. He has co-authored a book and has publications in journals pertaining to Technology and Design Education. He has participated in over 13 conferences and has been a resource person in more than 15 activities pertaining to Science Education, in particular, Biology Education. He is an active organisational hand in Teacher Training Workshops. Finally, he is a Sarojini Damodaran Fellow, awarded by Tata Endowment Fund of the TIFR. He has been an asset to the campus by volunteering actively to manage issues with snakes on the campus. He has done so with remarkable skill and humanity.
In this interview, we share some of his experiences and get to know more about snakes.
Hello Ritesh!
You have been a great help to us with snakes on the campus. We would like to partake of your experiences.
Q : How long have you been working at H.B.C.S.E?
R : Ten years.
Q : How did an interest in snakes develop?
R : Right from my college days, I would explore and trek. Along with some friends, we together developed a concern about environment, especially reptiles.
Q : How many snakes have been caught in the campus in your presence till now?
R : There have been 7 -8 sightings as far as I remember. Not all of these incidents resulted in their being caught.
Q : Which species were identified in the campus?
R : We have had both poisonous and non- poisonous snakes. Among the poisonous ones, we have spotted Spectacled Cobra, Russel's Viper, Saw Scaled Viper, Common Indian Krait etc. Non – poisonous ones include Rat Snake, Chequered Keelback, Buff Striped Keelback, Trinket etc. Of these the Buff Striped Keelback can be said to be semi poisonous, as it causes some irritation on the skin.
Q : Does one ascertain if the snake is poisonous before going on to catch it or is the identification done afterwards?
R : It requires many rounds of practice and experience. We take a note of some features of the snake, for example the head region, scales, nostril region etc. Some of them can be easily identified from a typical list on the website or a book. An experienced person may know the snake he is going to catch, otherwise we safely assume that it is poisonous and take all the necessary precautions. After observing its features, we may let it go and consult references to know more about it.
Q : How does one overcome the fear and approach the situation ?
R : There is a need to be gentle and not to be afraid of it when one wants to catch the snake. They won't bite you at all, unless they sense real danger from you. An animal doesn't spend so much of its preciously collected resource (poison) uselessly.
Q : What procedure did you employ to catch these snakes ?
R : First we drive them to a different path, where one of us is ready to place a stick on its head region. As the anterior portion is clamped, the posterior also becomes still. Initially, they may be a bit restless. Once we have sufficient control over it, meaning it has calmed down, we replace the stick with our hands from the back. This has to be done quickly and very carefully. A longer snake may require more than 1 – 2 persons for the head to be gripped. The body may also be required to be gripped at the middle.
Note: In the absence of an original HBCSE photograph of snakes being caught live, we use two images, taken from external online sources, to ensure a clear visual depiction of what is being described in the interview. We are thankful to the following sources, respectively:
http://www.thehindu.com/multimedia/dynamic/01533/snake_1533606f.jpg
http://www.ndtv.com/news/images/story_page/snake_295x200.jpg
Q : Are there safer and more efficient ways to catch snakes?
R : One can employ a badminton racket with a deep nylon net around its rim, to simple "scoop" them up and tie it at one go. Also one may use a specially manufactured long stick which has fork on one of its end. We capture the snake's head with this fork keeping ourselves at a safe distance, as the stick is very long. The fork can be widened and narrowed with the help of an attacked lever at the end in our hands. This makes the process easy and safe. Incidentally, twice, we have pulled a snake up from its tail!
Q : What do we do with the snakes after they have been caught?
R : We have held back any snake for academic observations. At most, a few of them have needed nursing from the wounds. Once, one of them was kept overnight. That's it. We try to release them humanely as soon as possible.
Q : In case, they are to be kept for some period, what do we do after catching them?
R : After, it needs to be put somewhere safely. A very deep gunny bag is ideal for this. The head is first introduced to the opening. It finds the darkness within, very comforting. Two persons holding the head and the tail have to release them simultaneously, so that it immediately falls into the bag . Before the snake may get a chance to recoil, the opening of the bag is fastened by someone who has been ready with a rope. The snake gets to the bottom of the bag on account of its weight and the bag is tied safely.
Q : What questions should we ask, what features should we observe before leaving them off?
R : Estimate of length, patterns of scale on tail, head tail, colour, special marks (if any).
Q : Would you like to share some of the memorable experiences catching snakes here at H.B.C.S.E?
R : First time, we just drove the snake away. Second time, however it was a baby Cobra! It was spotted by a friend.
I recall one amusing incident from years ago. Jyotsana and I were leaving office in the evening when we saw a small snake on the path from porch to the gate. Right before our eyes , it came towards us. It came so close that it could have entered the trousers. However , it took shelter beneath the sole of my shoes. It must have been a foot long snake, lying coiled underneath it. In an another incident, four years back, we spotted a 4 m long ratsnake, which was really huge. Although it was injured and couldn't move much, it took four of us to attend to it. Among ourselves, was an expert snake catcher Mrudul Patil. It took a lot of effort, skill and patience to clamp its heavy head, lift it and put in a bag. It was memorable.
Q : Where are they let off after being caught?
R : Somewhere, where people won't bother and harm them. Such places are on the BARC hills , Vashi Creek (not inside the creek, being too marshy), or adjoining canals nearby.
Q : Catching them in a closed room may be more risky. Have we spotted them inside the rooms of the building?
R : Most definitely! They have been sighted in the Old Hostel Ground Floor rooms. Since then we have attached rubber flaps to doors. Besides, ratsnakes have been spotted in toilets.
Q : From where did you learn to catch them? Were you bitten?
R : I have been accumulating gradual experiences, right from college days. We used to take part in "Sensitivity Drives" on Nagapanchami Days. People would burn their fangs with iron rods, force them to drink milk and then leave them wounded and vulnerable to preys. We would nurse them and release them into safer places. Organisations joined in soon to sensitise people. All this was 10 years back. Presently, there is a High Court ban on this.
Q : Does our institute have necessary apparatus for caching snakes?
R : At present, no. It would be nice to have one of the few devices, we talked about before : stick or the racquet. We should also have a first aid kit, exclusively for snake bites.
Q : Who requires more safety from the others : us from the snakes or the snakes from us ?
R : Definitely the snakes from us. It is us who have entered into the environment and ruined it. Our manicured lawns deprive them of the easy food they could have found in the wild. They don't bother us on their own. We should handle them more humanely.
Q : Are our gardeners safe? Do they know how to handle the situation in a humane manner?
R : All of us are safe as long as we allow them to take their course. However we should exercise caution in less accessible or less frequented areas like Technical Section Road. They have been spotted a few times at the Canteen Store, which contains inviting food for them : rats , frogs and grains. By and large, we need to sensitise the gardeners to handle the situation humanely, although I cannot speak of all of them in general.
Q : Can we describe their daily life on the campus? A few words on their senses, maybe?
R : We haven't observed them first hand, for so long. So, answers would not be from our direct experiences.
Q : How can we get to know more about them, to share with students who follow, say, the Small Science Curriculum?
R : As remarked earlier, observing the physical features and letting them off is the most humane thing we can do with the observational facilities presently installed in the campus. A booklet by Mr. Anil Kumar Khaire, called " Snakes of Maharashtra", can be very helpful. Mr. Anil himself works in Katraj Snake Park, Pune and is active in sensitising people about snakes.
Note: Thanks again for the above external images,
http://2.bp.blogspot.com/_0lHeJpXBKE8/TKihYrkF0OI/AAAAAAAAADg/QGi1aTe_7kM/s1600/Pune+023.JPG
http://cdn.slidesharecdn.com/ss_thumbnails/118482130-snakes-myths-facts-in-marathi-by-santosh-takale-130702004248-phpapp01-thumbnail-4.jpg?cb=1372743866
While we are at this, do check out the good work kept up by Katraj Snake Park
Mitra Houya Sarpanche (Friends of Snakes)
Q : How can the institute value their presence more?
R : By letting them be. We should be sensitive about what kind of things disturb their habitat. They are components of the food web , as much a part of environment as us. We should apreciate that most of them are non – poisonous and thereby harmless. This will make gardeners more comfortable. We should not panic. Taking precautions, being calm will avoid desperate situations where one has to run with kerosene and sticks. They should not be looked upon as threats. Sensitising faculty, technical/admisitrative staff, gardeners, residents would help a lot. We can have an Information Brochure for visitors which tells them, cautions them about the extraordinary richness of campus bio-diversity. It is richer than usual campuses. We should ask them to be careful on the less frequented paths and let them know their locations.
Q : Are you leaving the campus anytime in near future? Any suggestions on how we should handle and care for them in your absence?
R : Yes, I am leaving in near future.
We can call people from BNHS (Bombay Natural History Society) or SPCA (Society for Prevention of Cruelty to Animals). They have snake-catching volunteers who can release the snakes in safe environments. Also, we should have up-to-date first aid for poison wounds accesible ar Guest Houses and Main Gate.
In addition, having the snake catching apparatus installed, would also help. We should attend to sensitising people and situations will resolve in a humane manner.
Q : Thank you so much Ritesh ; this was a wonderful interview. All of us will find this very informative.
R : Thank you !
Thanks to our experience here at HBCSE, under sensitive intervention of our colleagues including Ritesh, that we are learning to handle snake-sightings in humane, responsible way.
Post by: Kumar Arunachal, Feb 2014
Ritesh was interviewed by Kumar Arunachal, a project assistant with Small Science.