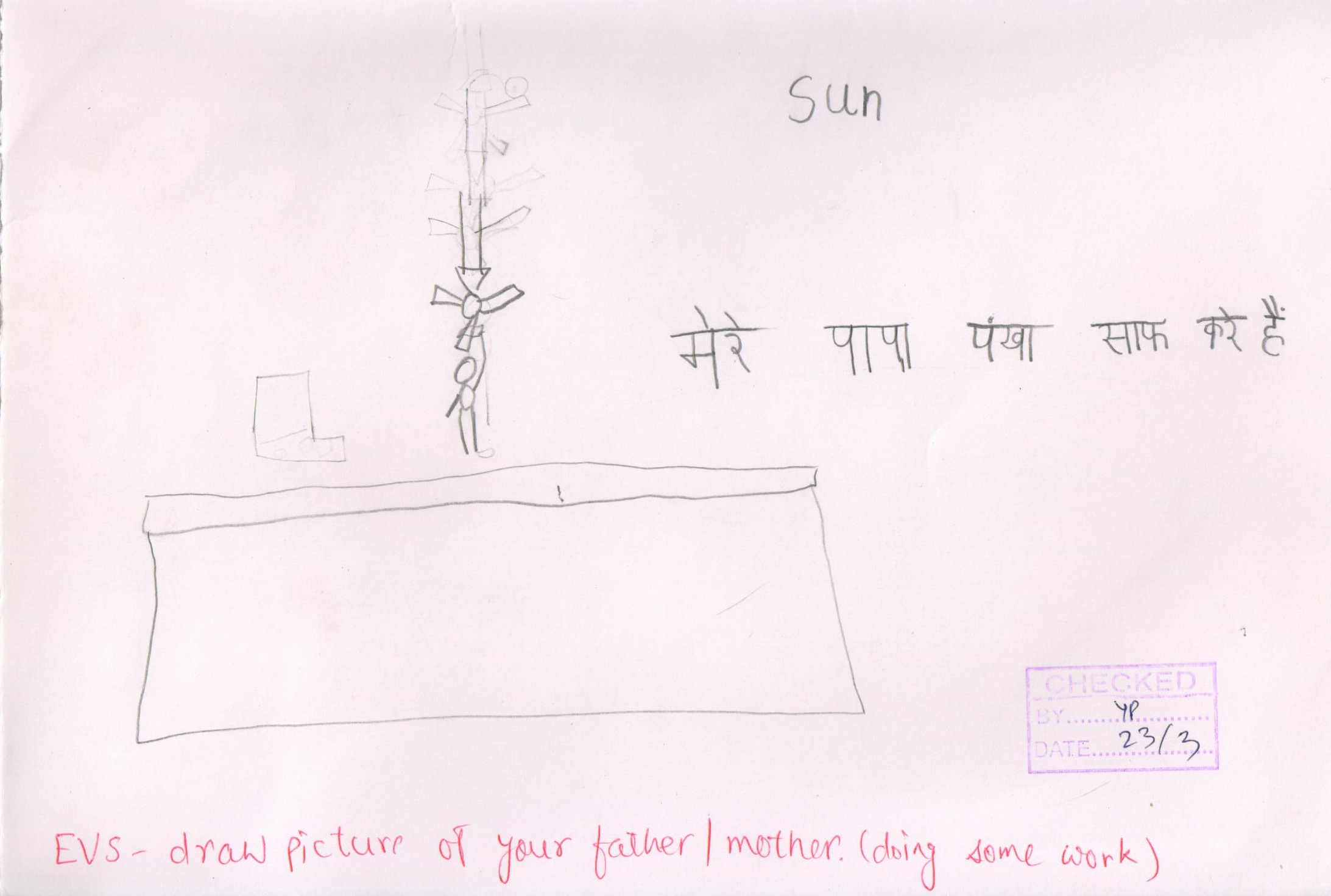 Gyankriti School, Indore, Grade 1
March 2017
Small Science
Teacher's Book – Class 1 & 2
Unit 1 – Me and My Family
About Gyankriti
Gyankriti School was founded in 2013 by me, Yograj Patel (B.Tech. & M.Tech., Mechanical Engineering) and my batchmate at IIT Bombay, Akshay Gupta (B.Tech., Chemical Engineering).  I came to know about Small Science and Computer Masti in 2011-12 through some elective courses that I took at the Education Technology department of IITB.  We loved the Small Science curriculum so much that we waited eagerly for almost five years to teach it.  We started Gyankriti as a Nursery school and increased one class every year.  This year when we introduced Grade 1 we could finally begin implementing the Small Science curriculum.
Small Science at Gyankriti
Science and Geography are core subjects in our Junior and Senior KG classes.  We found that the children loved simple science experiments and games like, model of diaphragm / lungs, soluble-insoluble, floating and sinking, day-night, kaleidoscope, perspiration, sowing seeds, etc. (see photos at the end).  We always did things practically instead of getting into the question-answer, writing-memorizing format – that is why we do not subscribe to any textbooks for our Nursery and Kindergarten classes.  Small Science was the obvious choice for Grade 1 EVS as it supported our teaching methodology:
"A striking observation about students in Class 1 and 2 is that their cognitive and social development, as also their spoken language, is considerably in advance of their literacy and numeracy skills.  The risk, in relying on rudimentary reading and writing skills to teach EVS, is that we may end up "dumbing down" the content."  – Small Science Teacher's Book for Class 1 & 2, p. 2
We recently started using the Small Science teacher's book for Class 1 & 2 (which combines science with social studies) for our Grade 1 students.  They are thoroughly enjoying each and every activity.  The 'Small Science' period is one of the most awaited parts of a routine day.
I am personally amazed how, throughout the Small Science course work, science is taught through activities and also the use of child's creative thinking.  Here is a sample of one of the activities we did recently in the first chapter of Small Science:
Me and my family
We are now in the first week our academic session and the Grade 1 students are doing Unit 1 (Me and my family).  On the first day of school we took the activity "Play – Home" where the children were supposed to act like their mother or father.  They really enjoyed themselves throughout the activity and ask the teacher every day, whenever they are free, to repeat the play.
The next day the children were asked, "Draw a picture of your mother or father doing some work."  Their display of creativity was amazing.  A few samples are below:
Picture 1: The child has drawn scene of his drawing room – there's a clock and parents are sitting nearby, checking out the Gyankriti Moodle page on their laptop while the child is watching TV (Rectangle as TV and the child standing in front of the TV).  Observe the laptop screen closely: you find the child has drawn the Ubuntu logo and a wi-fi symbol on the laptop.  He probably observed this during the Computer Masti period.
Picture 2: A simple and charming observation of daddy cleaning the ceiling fan on a Sunday – 'Sun' written on top to denote Sunday.  The child is surely enjoying learning Hindi and has written an extremely good caption given his limited literacy skills.
Picture 3: Mummy and Papa are seen doing several things together: shopping, mopping the floor, going by car, playing the casio keyboard with microphone, and more.
This first week has been a fabulous experience for both students and educators.  We feel it is the first drop in the ocean: looking forward to the exciting journey ahead.
We leave you for now with some images from previous classes.
Yograj Patel
Gyankriti School
+91-98260-22297
www.gyankriti.com