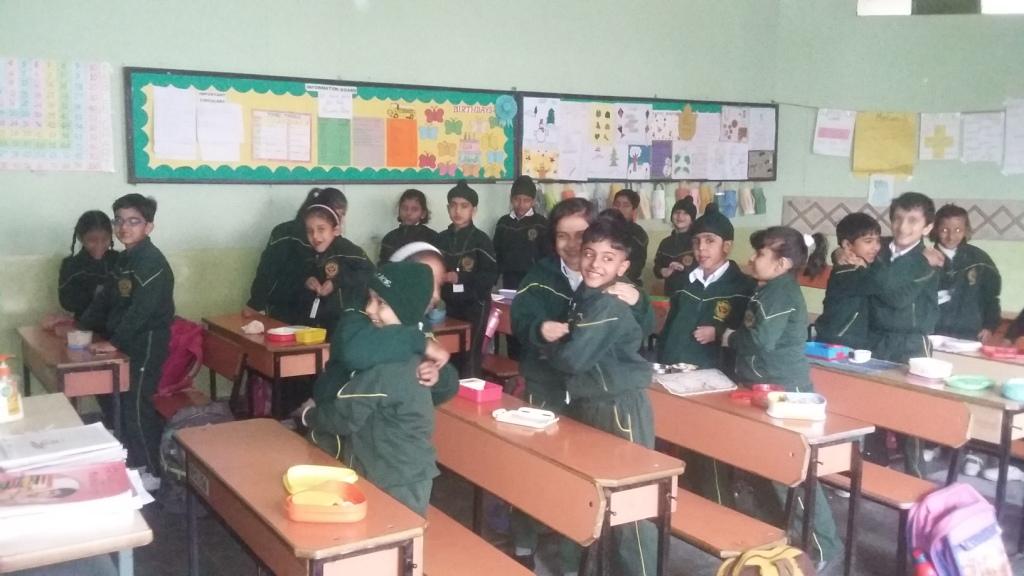 Delhi Public School, Bathinda, Punjab
Class II C, December 2017
Small Science – Class 1 & 2
Topic 19 – Festivals
Id and more
At DPS Bathinda we take up one chapter per month from the Small Science Teachers' Book for Classes 1 and 2. We decided that the chapter of the month for Class 2 for December would be 'Festivals'. This chapter deals with various religious, regional and national festivals of India. We decided to keep the chapter mostly activity-based and to celebrate some festivals in class too.
As December 2017 started with Id-e-Milad, so we began the chapter with Id. After a brief discussion in class, I gave the children one assignment of watching the moon and the sky on the eve of Id and drawing the same in their EVS copies. They were also instructed to bring 'Sewain', the special dish prepared on Id, in their lunch box. The day of Id was a holiday. When students came to school the next day they were very excited to show me their drawings and share their observations about the moon and the sky of that particular evening. Children hugged each other and wished "Id Mubarak". They also shared the Sewain among themselves.
The happiness and excitement of the children was wonderful to watch.
The drawing exercise gave us a real surprise because everyone always associates Id with a crescent moon with a star next to it. This misconception was broken when all the children came with drawings of a gibbous moon!
This is when we found out that Id-e-Milad occurs on the twelfth day after the new moon. I further explained to the class about the phases of moon (like new moon, crescent, gibbous and full moon) and how many of our festivals are related with the moon's phases.
After the Id celebration the children asked me many questions. One of their questions was, why do people have different religions? Although I was glad that they were asking questions it was quite a bit difficult for me to explain religion to children of their age. After some thought I cited the example of their class, like how Class 2 is divided into four sections and children of each section follow instructions of their respective HRT (Home Room Teacher) and they are known by their section. Likewise older people also follow instructions of different teachers and thus they get categorised into different religions accordingly. I felt at this age this kind of understanding was adequate and the children too appeared to be satisfied by it.
After Id we conducted similar activities for several festivals. For Lohri children distributed peanuts and rewri (crisp toffee made of sesame and jaggery or sugar) to the other primary classes. We watched videos, sang Punjabi folk songs and learnt that in other parts of India Lohri is celebrated as Makar Sankranti, Pongal and Bihu.
For Gurpurab we watched a short video on the life and teachings of Guru Nanak Dev ji followed by a discussion on how the day is celebrated. For Baisakhi we watched videos and danced Bhangra. For Diwali the children drew rangolis and diyas and made lanterns. For Holi they painted with flowers and made 'chip-chaps' to play a guessing game of flowers and their colours.
For Christmas I brought to class a Christmas tree and cakes. Here are some pictures of the activity of making Santa masks.
We learnt about Republic Day and Independence Day through stories, videos and drawings of the National flag. Narrating stories and events related to festivals was an essential part of this chapter.
Our children learnt about different festivals through these fun-filled activities. It was like a month of celebrations for them. Every few days they used to eagerly ask me about the next activity and celebration. It was very satisfying when children told me at the end of the chapter that this had been their favourite chapter so far.
The Small science planner for teachers has been a great help for us. I am also greatful to DPS Bathinda which gives me such a rewarding teaching and learning experience.
Ms. Mamta Maharana
Home Room Teacher, Class 2 C