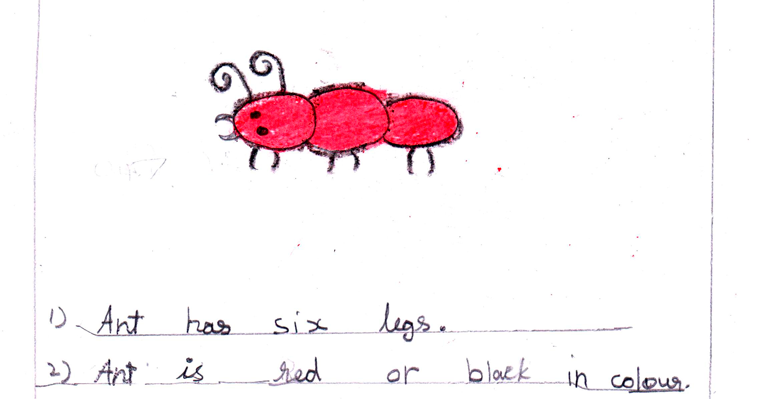 Vedavalli Vidyalaya, Walajapet, Tamil Nadu
Class: III A, August 2016
Small Science – Class 3
Chapter 4 – Looking at Animals
The ants, the ants
*
Students of Class III A of Vedavalli Vidyalaya, Walajapet got really excited about observing animals around them. Ms. Ratna had asked them to bring jaggery or some sweets from home, and they kept their goodies out in the veranda to see which living things would take them first. The crows were super-quick, as they swooped in to snatch away the tiny gulabjamuns and jangiris. Before the experiment could come to an untimely end the surprised kids rushed to pick up the remaining sweets, and took them back into the classroom. A few sweets stayed in the veranda and on the next day they were covered with different kinds of ants: some eating, some breaking off and carrying away bits food. We noticed that now the crows no longer showed interest in the sweets. Did they not like stale sweets, or were they avoiding the ants?
Ms. Ratna divided the students into small groups and asked them to observe the tiny ants through a magnifying lens. Students were very attentive; they saw the ants coming out through holes in the wall; a few noticed minutely the segmented body of the ants, some with black head and abdomen, with the middle segment reddish brown. They knew that these ants bite. They observed the eyes of the ants, counted the six legs and noticed how they held the food between their mandibles. In an earlier classroom discussion some students had hazarded a guess that ants might be walking only on four legs and using their front pair of legs to hold food. Certainly these ants were using all their six legs to walk!
During their search for ants some students decided to keep their sweets out under a tree, where some large ants found them. A few students followed the line of the ants to find their nest. They also saw ants of different kinds which were different in colour, shape and size – some even had wings to fly.
We observed the ants feed on different types of food including starch, meat, fat, some dead insects and sweets; but to our surprise we found that ants did not come near the food that we had kept out for a few days. Perhaps they do not like decaying food.
Back in the classroom students asked many more questions like, how do ants smell, taste or walk, where do they live? and so on. They enjoyed sharing their experiences, saying that they had seen nests of ants behind the decaying moist wood in the school playground. Some children had seen ants entering their home from outside into their food storage, some had seen their nests at home and in the soil. One child said his favourite animals were the ants as they came to eat the 'kolam' design made from rice flour that his mother drew outside the house.
We also saw the ferocious side of some ants. One student caught a housefly and a large ant, and kept them together in a plastic bag. Soon after there was a fight and the ant had killed the housefly. A garden spider built funnel-shaped membranous webs at the corners of a plastic box. To help it catch food we kept a piece of jaggery with 5-6 small reddish ants on it along with the spider. This was disastrous, as before we realised what was happening the spider was pinned to the jaggery and ants had bitten off three of its legs. We felt really sorry about this.
We plan to keep a terrarium and learn how to take care of animals while we observe them (Small Science Class 3 Teachers Book, pp.68-72).
Together we enjoyed the activity a lot. Many children drew pictures of ants and described their observations in a few lines, wonderfully.
Ms. Rathna B.
Class Teacher, III A
Jayashree Ramadas
Visitor from HBCSE
* The title of this piece is the first line of a poem called 'The Ants' by Joyce Sidman, taken from her book, 'Ubiquitous: Celebrating Nature's Survivors', illustrated by Beckie Prange and published by Houghton Mifflin Books for Children in 2010. Listen to Joyce Sidman reciting this poem at: https://www.youtube.com/watch?v=RfifKCtY-3s.