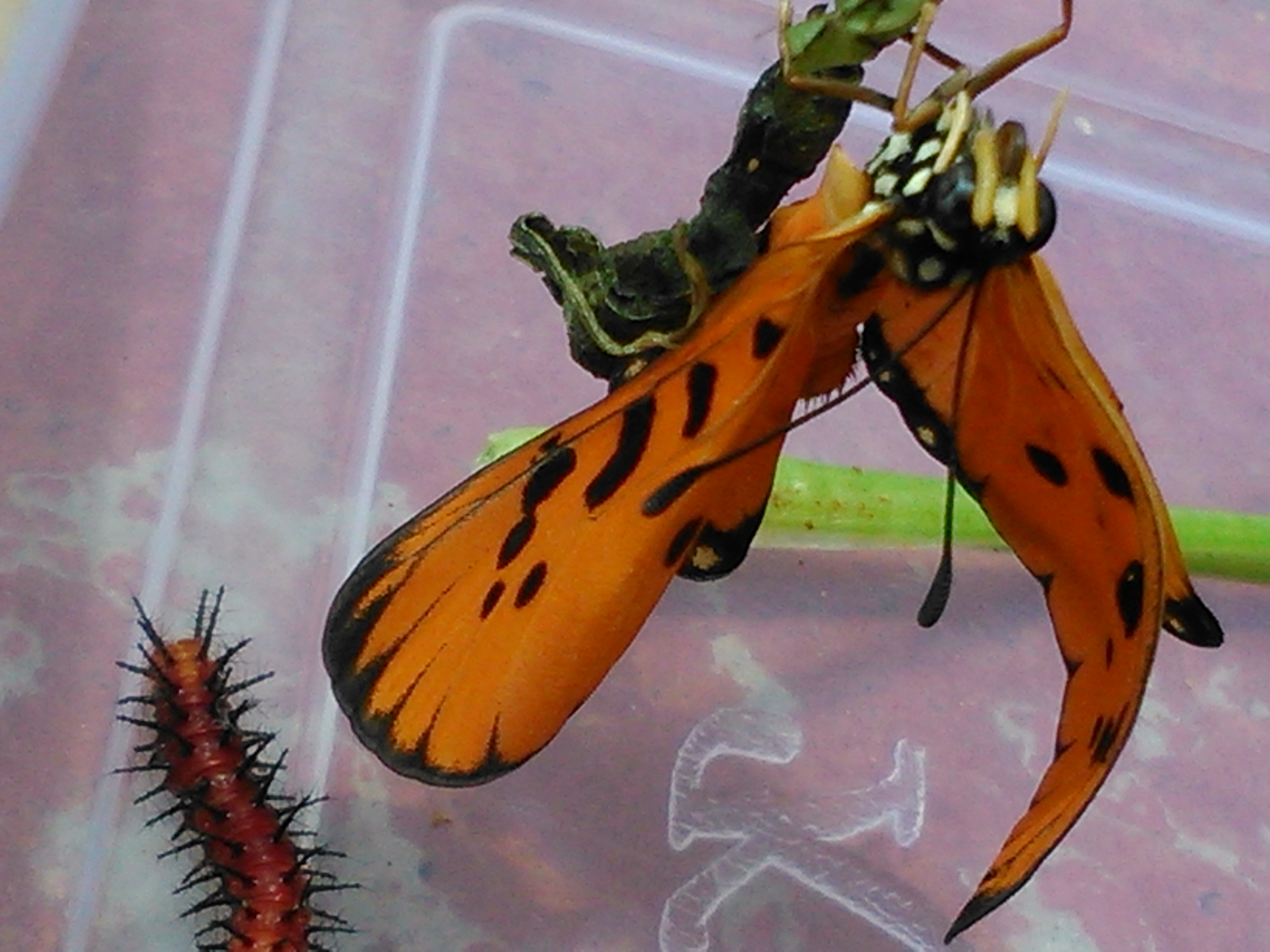 Al Qamar Academy, Chennai, Grade 3
August 2016
Small Science – Class 3
Unit 1 – The Living World
Tawny Coster
Only when the first butterfly emerged and spread out its handsome orange-brown spotted wings, did we find out it was a Tawny Coster. Since then we have been gently guided by biology teachers, butterfly enthusiasts in Chennai, and the wonderful Indian website, IFoundButterflies.*1
This website tells us what kind of food plants are liked by the caterpillars. It also explains why we saw only caterpillars on those weeds in 'The Farm' at Semmancheri – only caterpillars, never any pupae:
"Although, caterpillars of various growth stages can be seen at any given time, we never found pupae on the plants despite repeated and careful searches. We hypothesized that caterpillars crawl away from the host plant to pupate as is known to happen with some species of caterpillars which travel as much as one kilometre before becoming a pupa. In 2013, we were indeed able to locate many pupae of the butterfly on an unidentified grass away from the host plant."*2
We knew none of this on the day Jayashree Aunty brought five caterpillars to school in a box along with leaves of the plant that she found them on. They were a striking bright orange with long black spikes, and spikes on those spikes. "Kambalipoochi!" cried some ("Blanket worm" in Tamil). Some of them give you a bad rash, so we were careful. Dr. Geetha Iyer, our friendly biology teacher, told us it was the wrong name for our caterpillars:
"Any insect with hair on it is called Kambalipoochi these days. It was not so in my mother's generation.*3 You will find the Kambalipoochi easily on drumstick trees. It can certainly give you allergic reaction. This caterpillar you found does not have that kind of hair and does not normally given any allergic reaction, as far as I know, since my students have grown this for their project. It's a kind of camouflage to protect itself. See how people leave it alone! The real Kambalipoochi is the caterpillar of a moth that belongs to the sub-family Arctiinae whose members are generally referred to as tiger moths."
We kept the five orange and black caterpillars in a large transparent box with holes. It was not easy going. On the first day they chomped away energetically at leaves from their food plant. To keep them eating we had to replace the leaves with fresher refrigerated ones, which worked for three days. There were an increasing number of tiny black turds in the box – it seemed to be their potty. Every so often we cleaned out the box and added fresh leaves. But near the school we could not find a food plant that they liked. Ayesha Aunty went and bought fresh coriander and mint leaves which they ate, though with low appetite. A fresh batch of leaves would get them energised and exploring, stopping to nibble tentatively.
We waited for them to grow bigger or moult. Perhaps by the time we found them most of their growth had already happened, and if they did moult a few times they may have quickly eaten up their own discarded skin.*4
One morning about four days later we found that two of the caterpillars – curiously joined tail to tail – had pupated. We wondered if such joining is common in their free state, or whether in our box the caterpillars did not find a convenient attachment for pupating. The pupae were coloured orange-cream with black striped patterns. The spiky head of one catterpillar had dropped away while the other pupa had a head sticking out: eventually this head too dropped off. Three of the caterpillars were still moving around and eating.
It is amazing that the caterpillar digests itself into a soup inside the pupa.*5
About a week later one beautiful Tawny Coster emerged, dried its wings and flew away. That was the nice part.
The first butterfly let out two drops of red liquid after its wings were unfolded. Here it is, waiting for its wings to dry.
The second butterfly emerged from its case but it let out about four drops of the red liquid. It looked slightly bigger than the first butterfly but its wings remained twisted and it could not fly. We thought perhaps this was the liquid needed to flow into the veins to make the wings unfold, which this butterfly for some reason was not able to pump into its wings.
The other caterpillars continued to eat only sparingly and one of them died, so we left the remaining two in a vacant lot with lots of different weeds, hoping they'd find food, or satisfy their wanderlust and pupate.
Pedagogical Musings
This activity brought to life for the students the pictures of 'life cycle' that they had seen in their Montessori learning materials. They eagerly watched the caterpillars feeding, had anxious moments while trying to find the right food plants for them, and were deeply engaged in observations over the entire 10 days of this activity. They missed the great event as the two butterflies emerged on a Sunday when Aneesa had taken the box home to keep a watch on it. They waited in vain for the second butterfly to fly away and felt genuinely sorry when it did not. Like in the rest of the terrarium activity, we felt that we need to learn better how to take care of the animals and to ensure the right food supply and living conditions for them.
We have worried about whether to suggest such activities as part of the curriculum and whether Grade 3 is too early. First-hand observations are important but one needs to go into them with full preparation.
We have observed that kids in nursery classes learn to fear or kill any little insect that they see. So at an early age (say Grade 3) they need activities that will give them a respect for and appreciation of life. At the same time young kids can get very excited and excitable – could we channelise all the excitement into learning situations? Check out our experience at Vedavalli Vidyalaya, Walajapet.
We need to document the kind of preparation that is needed to do such activities with children while developing the right kind of values. We need practical knowledge and advice on what kind of animals to observe and for how long, safety rules for outdoors, how to keep a terrarium, etc.. When it comes to values there are areas of conflict – from how to deal with mosquito larvae, ticks, mites or Kambalipoochi, to rats who play havoc in a granary, or a mouse that gets into your house and chews up the electic wiring. And then there are the snakes. Dr. Geetha Iyer says:
"If the school decides that it is going to rear caterpillars of butterflies or other creatures then the responsibility of providing food as long as needed should also be undertaken. Otherwise it is best to observe them in nature and leave them to their fate… I am pointing out a fact that many teachers in their enthusiasm forget… and I am highlighting an opportunity to include value education along with nature study.
"No grade is too early for watching nature. But… why rear them? Why can you not simply watch them and learn? If they are feeding at a place then to be there for a few minutes every day and see if there are changes; if the caterpillars are not there then to wonder why they were not there; and this would then lead to whether can they be protected in situ.
"How to deal with insects that cause problem is a matter of individual opinion. Despite my love for insects I do not allow cockroaches in my house. I have actively encouraged a whole lot of predators such as lizards, wasps and spiders to keep a check on them. Occasionally I too join in as a predator. So you will have to figure this out. A tough one."
Those five Tawny Costers taught us a lot, and made us think much beyond the classroom. Our learning continues, as we wait to hear the experiences from your classrooms.
Aneesa Jamal
Correspondent, AQA
Jayashree Ramadas
Visitor from HBCSE
*1 Kunte, K., P. Roy, S. Kalesh and U. Kodandaramaiah (eds.) (2016). Butterflies of India, v. 2.24. Indian Foundation for Butterflies. http://www.ifoundbutterflies.org/home
*2 Saji, K., Y. Gurjar, P. Kale, T. P. Alaganantham, G. Jaikumar and K. Kunte (2016). Acraea terpsicore Linnaeus, 1758 – Tawny Coster. In Kunte, K., P. Roy, S. Kalesh and U. Kodandaramaiah (eds.). Butterflies of India, v. 2.24. Indian Foundation for Butterflies. http://www.ifoundbutterflies.org/sp/573/Acraea-terpsicore
*3 Researchers have found that the number of taxonomic categories in common use reduces with Westernisation (/urbanisation), with a shift towards higher, i.e. less descriptive categories as we lose touch with our natural environment. See Smith, E. E. and S. M. Kosslyn (2015). Cognitive Psychology: Mind and Brain. Chennai: Pearson India. p.200
*4 http://butterflycircle.blogspot.in/2013/02/life-history-of-tawny-coster.html
*5 http://www.scientificamerican.com/article/caterpillar-butterfly-metamorphosis-explainer/